The following article is an excerpt from Portland: A Food Biography (2014) by Heather Arndt Anderson and is used with her permission. Heather's Arndt family is from the Volga German colony of Norka.
"Volga Germans were accustomed to living as outsiders; they had done so for more than a century in Russia, maintaining their German ethnicity and language during the entirety of their settlement in the Volga River Valley. Volga Germans maintained their foodways as well, with few influences from their Russian neighbors. There are exceptions, however; the Volga German word for pancake, belina, comes from the Russian blini. The traditional Volga German dish bierock, a bread stuffed with cabbage, onions and ground beef resembles pierog in etymology and is typical of the Russian meat pies pirozhki. Dishes like Fleischkeukle, a fried meat pie originating in Turkey, appear to be influenced by the Tatars that also lived along the Volga.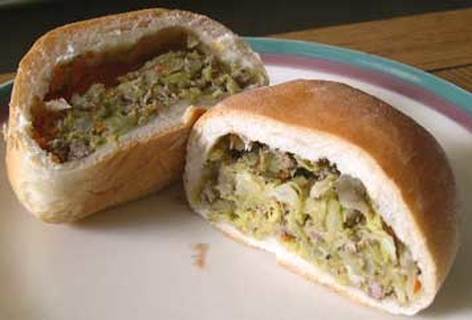 Culturally secluded Volga Germans did not eat tomatoes until they arrived in the United States, because these crops had not yet been integrated into German cuisine before they departed for Russia (like many northern Europeans, Germans were wary of the nightshade and stuck to keeping tomatoes solely as decorations until the late 18th century). Consequently, Volga German versions of some Russian dishes reflect this distinction. Volga German cabbage rolls called halupsi, for example, are based on Russian goluptsy, but whereas the Russian version is often served with tomato sauce, traditional Volga German recipes never called for tomatoes until they were Americanized."
Resources
Dalhaimer Bartkowski, Anna. Value Meals on the Volga: Sharing Our Heritage with New Generations: Eating Traditions from Mariental, Russia. Infinite Adventure, 2006. Print.

Long, James. From Privileged to Dispossessed. Lincoln, Nebraska: U of Nebraska, 1988. 264. Print.
Scheuerman, R. D., & Ellis, Maria. (2014). Harvest home : a cookbook of seasonal grain recipes with Old and New World culinary lore : soups and stews, breads and beverages. Spanaway, Washington: Columbia Heritage Press.
Miller, G. H. (2001). Schnell family memories and favorite recipes. Portland, Oregon.
Young, R. N. (2011). There is always room for one more at our dinner table : Volga German stories and recipes. Bloomington, IN: AuthorHouse.

Küche Kochen. Lincoln, Nebraska: American Historical Society of Germans from Russia, 1973. Print.

The German Kitchen. Portland, Oregon: Brethren Congregational Church, 1961. Print.
Sharing our best : 125 years of recipes and remembrances. (2001). Hays, Kan.: Northwestern Printers.