By 1989, nearly a million Russian-Germans lived in Kazakhstan. They constituted the third largest nationality in the territory after Russians and Kazakhs. At almost 6% of the population, the Russian-Germans formed the largest and most important diaspora nationality in the Kazakh SSR. The Russian-Germans played an important role in Kazakhstan's economic development in the years after World War II.
The origins of the Russian-Germans in Kazakhstan are mixed. Russian-German colonists from other regions of the Russian Empire first settled there in 1882. By 1926, Kazakhstan had over 50,000 Russian-Germans. Deportations during the collectivization of agriculture in 1930-1931 further increased this population. In 1936, the Soviet government exiled the Russian-German population near the Polish border to Kazakhstan. The vast majority of Russian-Germans from Kazakhstan are the descendents of deportees during World War II. During the fall of 1941, the Stalin regime deported more than 850,000 Russian-Germans eastward. Close to 400,000 of these deportees ended up in Kazakhstan. Here the Soviet government subjected them to inhumane living conditions of severe material poverty and denial of basic human rights. Only in the mid-1950s, after Stalin's death, did their status improve significantly.
Despite these improvements, the Russian-Germans continued to suffer from official discrimination. They could not return to their former places of residence, they only had access to a few token German language publications and they remained largely excluded from receiving higher education and white collar jobs. This discrimination made it impossible for the Russian-Germans to adopt Kazakhstan as a new homeland. It continued to be a land of involuntary exile and suffering.
With the dismantling of the Soviet Union in 1991 and the creation of an independent Kazkhstan, the ethnic Germans began a mass exodous from the region - back into Russia proper and to Germany. By 1999, the German population in Kazkhstan numbered only 353,441.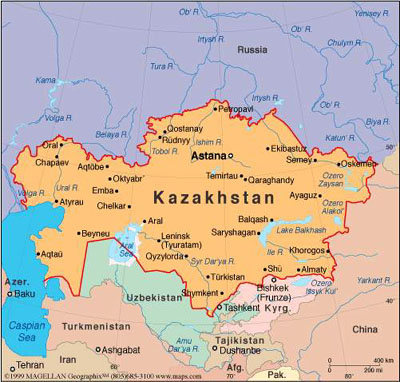 Sources
J. Otto Pohl, "Suffering in a Province of Asia: The Russian-German Diaspora in Kazakhstan" in German Diasporic Experiences: Identity, Migration, and Loss (Wilfrid Laurier University Press, 2008).