In an effort to avoid repetition of the religious conflicts of central Europe that had plagued most of the seventeenth and eighteenth centuries, the Volga German colonists were initially assigned to colonies based largely upon their religious affiliation. As a result, one finds colonies made up primarily, or exclusively, of one of three religious groups: Evangelical (what we would today call Lutheran); Reformed; and Roman Catholic.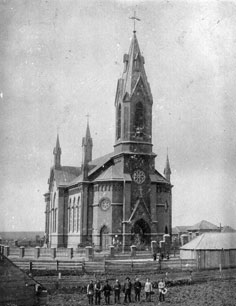 Beginning in 1848 and continuing through the 1850s, a number of Mennonite colonies were also established among the extant colonies which brought another religious element into the area. Among the early colonists to immigrate to America were a group that were converted to the beliefs of the Seventh Day Adventists after they arrived in North America. Several "evangelists" returned to the Volga region and established Seventh Day Adventist parishes in the colonies.
Joseph Stalin's law banning the activities of church communities and religious services in the country was issued 8 April 1929 and by 1931 all official religious activity in the colonies had ceased.
The colonists built some magnificent church structures. Following Stalin's religious ban, those buildings remaining at the time were destroyed or put to other uses.
Since the dissolution of the Soviet Union in 1990, several church building have been returned to various denominations for use for religious services. Among those are the Lutheran churches in Katharinenstadt and Gnadentau. The church in Zürich has been reconstructed.
RELIGIOUS GROUPS AND TOPICS
Brüder Konferenz (The Brotherhood)
Iglesia Evangélica Congregacional Argentina (IECA)
Resources
Eisenach, G. J. (1948). Pietism and the Russian Germans in the United States. Berne, Ind.: Berne Publishers.
Eisenach, G. J. (1950). Das religiöse Leben unter den Russlanddeutschen in Russland und Amerika. Marburg an der Lahn: Buchdruckerei Hermann Rathmann.
Eisenach, G. J. (1938). A history of the German Congregational churches in the United States. Yankton, S.D.: Pioneer Press.
Schnurr, J. (1972). Die Kirchen und das religiöse Leben der Russlanddeutschen. Stuttgart: [Volk auf dem Weg].
Zikmund, B. B. (1984). Hidden histories in the United Church of Christ. New York: United Church Press.