Many famine letters were published in Die Welt-Post (The World Post), which was read by many Volga German immigrants and their descendants in the United States and Canada. It was a weekly German-language newspaper published from 13 April 1916 to 18 September 1970 (no issue for 20 April 1916). It was originally printed in Lincoln, Nebraska, and with the 20 March 1919 issue, it was also printed in Omaha, Nebraska. Beginning with the 10 July 1958 issue it was printed exclusively in Omaha, Nebraska, until its final issue in 1970.
In 1970, Die Welt-Post merged with several German-language publications to become Die Welt-Post und der Staats-Anzeiger which was published in Omaha, Nebraska.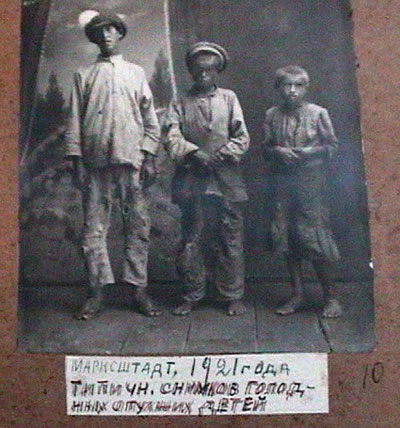 Die Welt-Post newspaper articles are on microfilm and held by the AHSGR in Lincoln, Nebraska. The papers have been indexed by Samuel D. Sinner in his booklet Letters from Hell published by AHSGR in 2000. In order to obtain the original articles, one must buy Sinner's Index and then order the individual articles. The articles are not indexed by surname. They are indexed by village.
Sinner's documented research shows that between 1915 and 1949 approximately one million ethnic Germans died in Russia and the Soviet Union. During each of these decades, the Soviet authorities murdered about one-fourth to one-third of the entire ethnic-German population. The Letters from Hell publication includes a discussion about the period, including what was known outside of the Soviet Union about the genocide, how the non-communist world overlooked what was occurring, and how this horrible nightmare became a forgotten past. The complete discussion is found in the Letters from Hell booklet which can be purchased from the AHSGR.
LETTERS FROM 1922
Die Welt-Post, Thursday, March 2, 1922 (Norka)
Die Welt-Post, Thursday, March 2, 1922 (Walter)
Die Welt-Post, Thursday, March 2, 1922 (Hussenbach)
Die Welt-Post, Thursday, March 2, 1922 (Kratzke)
Die Welt-Post, Thursday, March 2, 1922 (Frank)
Die Welt-Post, Thursday, March 2, 1922 (Frank)
Die Welt-Post, Thursday, March 16, 1922 (Various Colonies)
Die Welt-Post, Thursday, April 27, 1922 (Dönhof)
Die Welt-Post, Thursday, April 27, 1922 (Kutter)
Die Welt-Post, Thursday, April 27, 1922 (Grimm, Kutter)
Die Welt-Post, Thursday, April 27, 1922 (Kutter)
Die Welt-Post, Thursday, April 27, 1922 (Franker Chutor)
Die Welt-Post, Thursday, April 27, 1922 (Frank)
Die Welt-Post, Thursday, April 27, 1922 (Frank)
Die Welt-Post, Thursday, April 27, 1922 (Various Colonies)
Die Welt-Post, Thursday, April 27, 1922 (Saratov)
Die Welt-Post, Thursday, April 27, 1922 (Various Colonies)
Die Welt-Post, Thursday, April 27, 1922 (Franker Chutor)
Die Welt-Post, Thursday, April 27, 1922 (Strassburg)
Die Welt-Post, Thursday, May 25, 1922 (Balzer)
Die Welt-Post, Thursday, May 25, 1922 (Gnadentau)
Die Welt Post, Thursday, May 25, 1922 (Moor)
Die Welt Post, Thursday, May 25, 1922 (Kratzke)
Die Welt Post, Thursday, May 25, 1922 (Hildmann)
Die Welt Post, Thursday, May 25, 1922 (Friedenfeld)
Die Welt Post, Thursday, May 25, 1922 (Bangert)
Die Welt-Post, Thursday, June 8, 1922 (Dönhof)
Die Welt-Post, Thursday, June 8, 1922 (Tzaritzin, Dönhof)
Die Welt-Post, Thursday, June 8, 1922 (Various Colonies)
Die Welt-Post, Thursday, June 8, 1922 (Constantinople)
Die Welt-Post, Thursday, June 8, 1922 (Frank)
Die Welt-Post, Thursday, June 8, 1922 (Krasnoyar)
Die Welt-Post, Thursday, June 8, 1922 (Reinhard)
Die Welt-Post, Thursday, June 8, 1922 (Various Colonies)
Die Welt-Post, Thursday, June 8, 1922 (Various Colonies)
Die Welt-Post, Thursday, June 8, 1922 (Various Colonies)
Die Welt Post, Thursday June 15, 1922 (Dönhof)
Die Welt Post, Thursday June 15, 1922 (Messer)
Die Welt-Post, Thursday, July 13, 1922 (Wiesenmüller)
Die Welt-Post, Thursday, July 13, 1922 (Various Colonies)
Die Welt-Post, Thursday, July 13, 1922 (Various Colonies)
Die Welt-Post, Thursday, July 13, 1922 (Various Colonies)
Die Welt-Post, July 16, 1922 (Orlovskaya)
Die Welt-Post, August 10, 1922 (Frank)
Die Welt-Post, August 10, 1922 (Balzer)
Die Welt-Post, August 10, 1922 (Dönhof)
Die Welt-Post, August 10, 1922 (Frank)
Die Welt-Post, August 10, 1922 (Frank, Walter)
Die Welt-Post, August 24, 1922 (Wiesenmüller)
Die Welt-Post, August 24, 1922 (Berlin)
Die Welt-Post, August 24, 1922 (Samara, Various colonies)
Die Welt-Post, August 24, 1922 (Mannheim)
Die Welt-Post, August 24, 1922 (Katharinenstadt, Boaro)
Die Welt-Post, August 24, 1922 (Saratov)
Die Welt-Post, August 31, 1922 (Wiesenmüller)
Die Welt-Post, August 31, 1922 (Kamyschin)
Die Welt-Post, August 31, 1922 (Lauwe)
Die Welt-Post, August 31, 1922 (Laub)
Die Welt-Post, August 31, 1922 (Brunnental)
Die Welt-Post, August 31, 1922 (Rosenheim)
Die Welt-Post, August 31, 1922 (Kukkus)
Die Welt-Post, August 31, 1922 (Huck)
Die Welt-Post, September 7, 1922 (Frankfurt an der Oder)
Die Welt-Post, September 7, 1922 (Frank)
Die Welt-Post, September 7, 1922 (Kutter)
Die Welt-Post, September 7, 1922 (Walter Chutor)
Die Welt-Post, Thursday, November 16, 1922 (Norka)
Die Welt-Post, Thursday, November 16, 1922 (Dönhof)
Die Welt-Post, Thursday, November 16, 1922 (Frank)
Die Welt-Post, Thursday, November 16, 1922 (Multiple Colonies)
Die Welt-Post, Thursday, November 16, 1922 (Walter Chutor)
LETTERS FROM 1923
Die Welt-Post, Thursday, January 11, 1923 (Brunnental)
Die Welt-Post, Thursday, January 11, 1923 (Neu-Dönhof)
Die Welt-Post, Thursday, January 11, 1923 (Bohn)
Die Welt-Post, Thursday, January 11, 1923 (Jost)
Die Welt-Post, Thursday, January 11, 1923 (New York)
Die Welt-Post, Thursday, March 8, 1923(Frank Chutor)
Die Welt-Post, Thursday, March 29, 1923(Wiesenmüller)
Die Welt-Post, Thursday, March 29, 1923(Walter Chutor)
Die Welt-Post, Thursday, April 12, 1923 (Wiesenmüller)
Die Welt-Post, June 30, 1923(Laub)
LETTERS FROM 1924
Die Welt-Post, Thursday, April 3, 1924 (Norka)
Die Welt-Post, Thursday, August 14, 1924 (Schulz)
Die Welt-Post, Thursday, August 14, 1924 (Wiesenmüller)
Die Welt-Post, Thursday, September 11, 1924 (Wiesenmüller)
Die Welt-Post, Thursday, September 11, 1924 (Brunnental)
Die Welt-Post, Thursday, September 11, 1924 (Frank?)
Die Welt-Post, Thursday, September 11, 1924 (Schilling)
Die Welt-Post, Thursday, September 11, 1924 (Kolb)
Die Welt-Post, Thursday, September 11, 1924 (Brunnental)
LETTERS FROM 1925
Die Welt-Post, Thursday, June 11, 1925 (Dönhof)
Die Welt-Post, Thursday, June 28, 1925 (Beideck)
LETTERS FROM 1932
Die Welt-Post, Thursday, February 4, 1932 (Dönhof)
Die Welt-Post, Thursday, February 4, 1932 (Maikaduk)
Die Welt-Post, Thursday, February 4, 1932 (York, Nebraska)
Die Welt-Post, Thursday, February 4, 1932 (Lauwe)
Die Welt-Post, Thursday, July 29, 1932 (Norka)
Die Welt-Post, Thursday, September 1, 1932 (Walter)
Die Welt-Post, Thursday, September 1, 1932 (Grimm, Kutter)
LETTERS FROM 1933
Die Welt-Post, Thursday, March 4, 1933 (Norka)
Die Welt-Post, Thursday, July 20, 1933 (Dönhof)
Die Welt-Post, Thursday, August 10, 1933 (Dönhof, Kautz)
Die Welt-Post, Thursday October 18, 1933 (Dönhof, Norka)
Die Welt-Post, Thursday, October 18, 1933 (Dönhof)
LETTERS FROM 1934
Die Welt-Post, Thursday, January 18, 1934 (Dönhof)
Die Welt-Post, Thursday, January 18, 1934 (Frank Chutor)
LETTERS FROM 1936
Die Welt-Post, Thursday, June 20, 1936 (Brunnental)
Aricles in the following issues have been translated into English:
13 January 1921
7 February 1921
17 February 1921
21 April 1921
14 July 1921
4 August 1921
11 August 1921
18 August 1921
25 August 1921
8 December 1921
15 December 1921
22 December 1921
29 December 1921
9 February 1922
2 March 1922
16 March 1922
7 April 1922
20 April 1922
27 April 1922
25 May 1922
8 June 1922
15 June 1922
6 July 1922
13 July 1922
16 July 1922
27 July 1922
10 August 1922
24 August 1922
31 August 1922
7 September 1922
16 November 1922
4 January 1923
11 January 1923
18 January 1923
22 February 1923
1 March 1923
8 March 1923
15 March 1923
22 March 1923
29 March 1923
5 April 1923
12 April 1923
19 April 1923
26 April 1923
3 May 1923
10 May 1923
17 May 1923
24 May 1923
31 May 1923
7 June 1923
28 June 1923
5 July 1923
19 July 1923
26 July 1923
2 August 1923
9 August 1923
13 September 1923
27 September 1923
11 October 1923
18 October 1923
25 October 1923
3 April 1924
14 August 1924
11 September 1924
11 June 1925
28 June 1925
4 February 1932
29 July 1932
1 September 1932
4 March 1933
20 July 1933
10 August 1933
18 October 1933
18 January 1934
20 June 1936